Better, hotter, quirkier. Fredmansky at Forward Festival 2017.
by Isabella Fahrner in May 2017
Queues up to the entrance. Queues up to the toilet. Queues up to the bar. Queues up to the cloakroom. But the waiting paid off. The Forward Festival in Vienna spat us out full and satisfied after two intense days full of interesting speakers, pearls of wisdom, partying and cucumber spritzers. We present the highlights and souvenirs from our Vienna trip today, here and now in random order.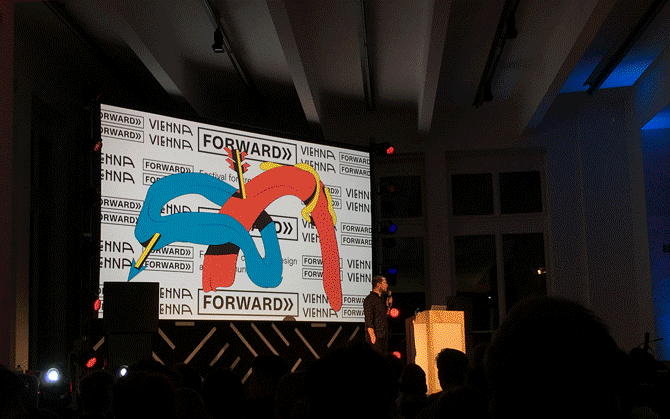 #1 Side-projects boost recognition.
People know you before you know them.
At the moment, yeah, a little like every festival's tagline: do more shit. More of your own projects that are fun. You aren't paid any money for these (unless you're called Mr Bingo), but it can pay off. (The boys from Wild woke up in Jessica Walsh's apartment after one award show.) Even at Forward, there was hardly a speaker who took to the stage without having side-projects. A selection of the best unpaid projects:
#2 The Vague. Meaning is connected to wonder, not knowledge.
Apart from the fact that Felix Richter (Executive Creative Director at Droga 5 and Professional Young Gun 2012) is an inspiration in himself purely due to his humble appearance compared with his CV, he is one of few who has shown that funny stuff is not the only way to success. His ad spots have depth and almost a certain tragedy, but even so, the Under Armour commercial with Michael Phelps has about 12 million hits, while those for Hennessy Cognac have racked up several hundred thousand.
#3 Let them fail and learn. (Eike König)
You've got to like Eike König. Not just Eike König the German graphic designer. But Eike König the person, too. His agency (Hort) is likely to keep having as many employees as needed to get his fill with two family pizzas. And under his rules, it's not about the customer once. All right, agencies are not sheltered workshops. But more is often accomplished with respect than with stress and intimidation.
#4 Joy equals motivation. Motivation equals energy. Energy equals productivity. Productivity equals money. And that's what everyone is looking for.
If you manage to have everyone taking pleasure in their work in a studio or an agency, theoretically more money would show up at the end even though less work may have been done. Worth a try?
#5 How can we talk about visuals that don't yet exist?
If you want to explain a film's idea or an image's drama to the customer, then you shouldn't look for any pictures that are only half as good as the ones in your own mind. (Mood images), but instead show a film scene that shows the right emotion. One example: Felix Richter of Droga 5 presented a dark video to Under Armour of a guy, bound on the floor, crawling naked over shards of glass. Cyberbullying must come very close to the feeling. The later ad saw Gisele Bündchen venting her anger on a punching bag while online posts from haters were projected all around on the walls.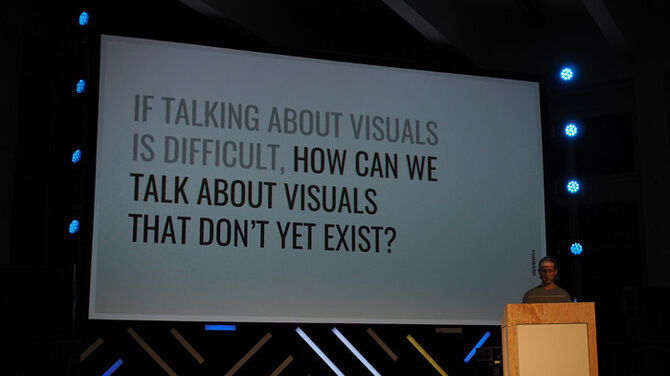 #6 We work for your customers, so it may be that we take their side from time to time.
Those who need to relish the bait have long been known. Occasionally, it might be worth reminding customers of that. Just as Edenspiekermann like to do.
#7 Sarah Illenberger. The surprise of the day.
She showed that illustration is more than just drawing something with a pen. Sarah has managed to bring her creations to life and sell them in a shop.
#8 Many bosses instead of one.
At Freitag, there are no personal hierarchies. Everyone's their own boss. That means everyone has more responsibility. More responsibility means everyone cares more about how things turn out in the end. Brave approach; works at Freitag.
#9 Life is a bitch and so are pitches
Pfadfinderei dubbed pitches "the worst start to a working relationship". Respect and trust are key points for successful cooperation. There is no worse way to start than with pitches.

When the Swedish agency with its own rock band and shower beer says "brand yourself!" or "dare to be bold!", you really do buy it. Snask are crazy. Crazy funny, crazy cool, crazy loud and crazy good at everything they do.