TypoBerlinz – that was FRTG #1
30 tickets, two speakers and this small, inviting living room. The private concert of type rock stars Marianna Paszkowska and Hendrik Weber was as cosy as you can get, but offered as much valuable content as a big typography conference. We jumped for joy to have had you all here.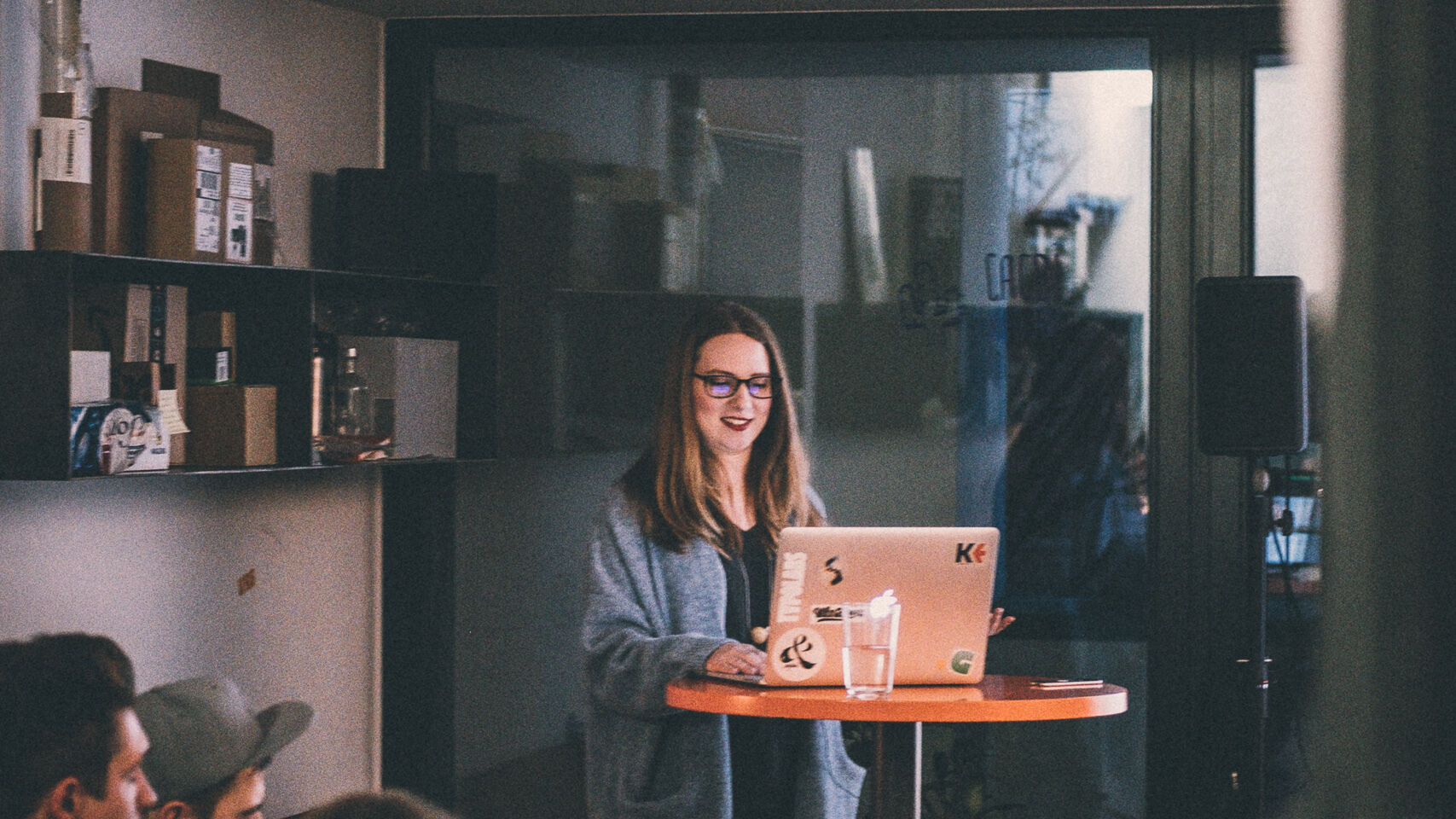 Both designers and front-end developers were deliriously happy when they heard that Open Type Specification 1.8 was going to be implemented in September 2016. The mundane number hid the revolutionary prospect of fonts that dynamically adjust to their environmental conditions. Good – the cat was out of the bag. But where has that cat gotten to?
Currently, typography engineers are occupied with designing and programming variable fonts that make it possible to control clean typesetting on the internet. The first ones are already running on Safari and Chrome. Does Internet Explorer still exist? No matter – we're going off script. 
Marianna Paszkowska, a typography engineer at Monotype, showed us how to build variable fonts, how to use them in practice, and who is already experimenting with them. If you missed Marianna at FRTG, you can meet her at TYPO Berlin in May. She is one of the speakers there.
Talk #2: Typography and branding
Typography is branding. Although everyone knows that, Hendrik Weber, Type Director at Monotype, enthusiastically demonstrated the communication power of typography based on examples from Canyon, Bentley, Porsche and J!NS.
Typography's mission is to make brand personalities perceptible. This doesn't mean the font itself gets to bathe in the spotlight. In a press release from Porsche about their new corporate design, one of the headlines read: "Did you notice the new font?". Typical Hendrik. When the creative head of an international font development team develops glyphs further, he circles around the fact instead of loudly patting himself on the back. Circles on tiptoes. It takes this kind of sensitivity to put the brand in focus. Not the font.
But how do you know what the brand personality is? Before he starts designing fonts, Hendrik wants to understand the product, the brand, and the brand's customers. For example, when Hendrik was working on a typography re-design for Porsche, he was picked up from the airport in a sports car and asked the driver to put the car through its paces for him. He felt like throwing up when he got out, but that was OK. After the ride, he knew that Porsche was more than just an attractive car. The brand has petrol in its blood and technology in its head. And the designer knew what the font had to look like. It needed power, weight, and geometry. The rest is design history.
Pestle, Billy Dilly and the device.
What would main talks be without the small, intimate conversations in between? We thoroughly enjoyed the many nice discussions, re-connecting and meeting new people, the informal wuzzle dates and speed text coaching. We all learned something in the process: How to make Billy Dilly. Or better yet: How not to make it. Despite the lovely instructions of our front-end developer – who has a weakness for Comic Sans – none of us got further than cucumber salad with vodka. Maybe we were simply all thumbs with the device of the evening: A pestle. 
In our defence, we are used to bigger devices. THE device. Of course that made an appearance at FRTG. We tested appealing fonts and even more appealing content on containers and people. If you want to try too, you can borrow the device in our fan shop. Maybe we'll lend the pestle soon, too. We'll see.
And by the way, we were also pleased at the many compliments we received for the snacks. Instead of basking in the glow, we passed the praise on to where it was due: Mühltalhof. The fresh bread, bacon, and spreads were a preview of Fernruf 7, the latest venture of the Rachinger family.
Well, that's all for now.  To be continued at the next #FRTG.