I've been on a pilgrimage. A journey to find myself.
Sunday 14/07/2019, 9:31 am. My iPhone wakes me up. Hit snooze. 8 minutes later, the same thing. Flight mode off. Bing bing bing (WhatsApp). Bi-bi-bi-bi-bi-bing (iMessage). Dong-Dong-Dong-Do-do-do-do-do-dong (Mail). Ding-Ding-Ding-Ding-Di-di-Ding (Messenger). My brain releases tons of cortisol.
I turn onto my side. My right hand goes to the iPhone. In natural focus mode (left eye closed) I try to have a quick wade through the jungle of notifications. Tennis is off. The weather's awful. Never mind. Something else will come up. I turn over again. The iPhone rings. Really? Now? Sunday at 9:44 am? I feel my brain release another 2 tons of cortisol. I don't know the number. In just a few seconds I decide to start walking the Granite Pilgrimage route a day early. I jump up. A quick cold shower. Rucksack packed. 5 things for 4 days. Heavy walking shoes. Light sports shoes. Long trousers. Short trousers. Swimming trunks. iPhone charger. Wait. No. I'm leaving it at home. Flight mode on. The start of a journey.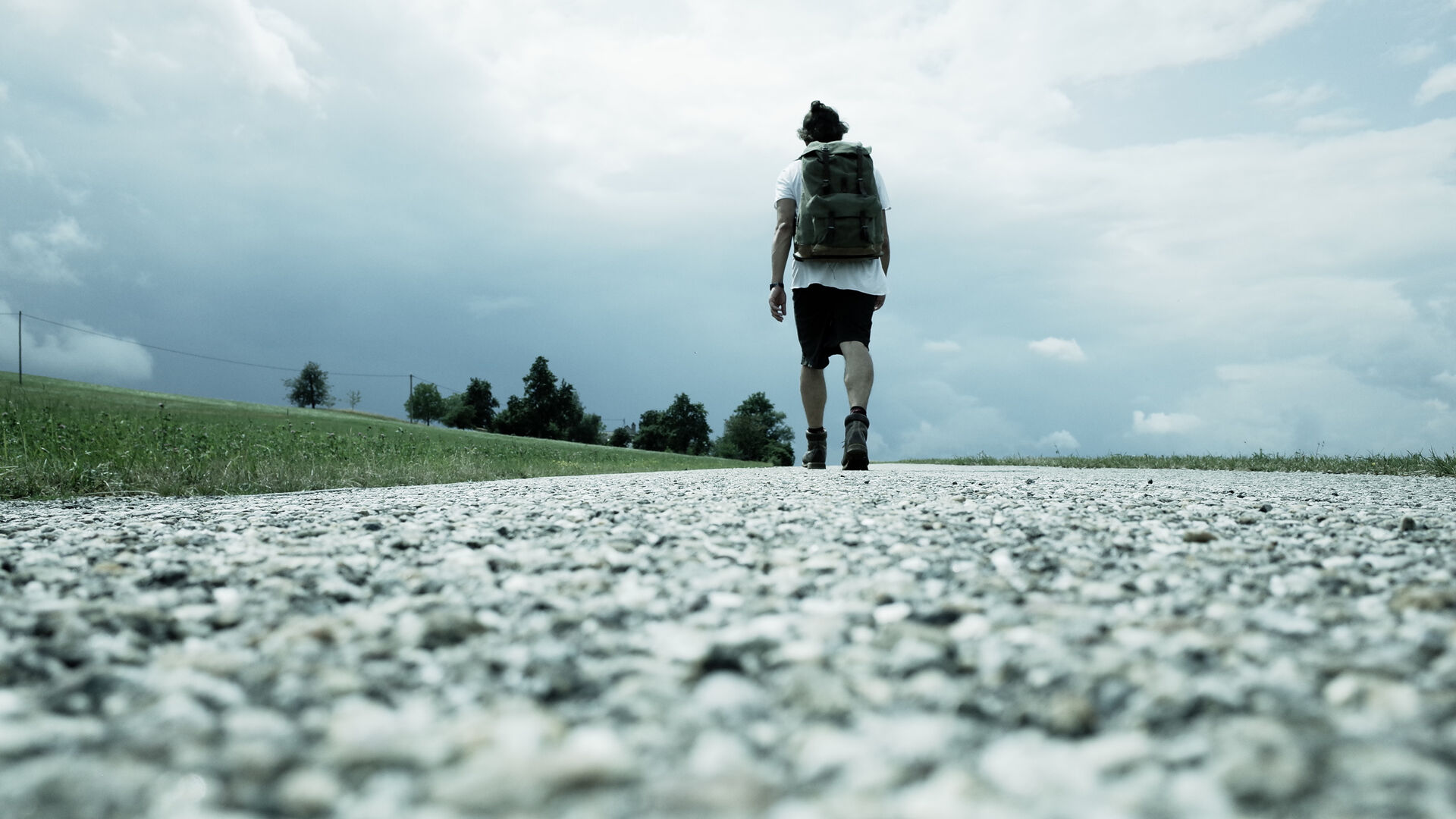 I walk to Urfahr. Pop into the office to pick up the camera. Where does the bus leave from? And even more important - when? No idea. I go to Mühlkreis station. A conductor's sitting there on a bench and gawping at his tablet. A loud deep voice is telling him something about politics.
"Excuse me ... what's the best way to get to Sankt Martin?" "Sankt Martin? Don't know a stop called Sankt Martin." "Hmm ... OK. Not got my phone with me, I'm really stuck."
— He closes his app on the tablet and opens the railway app —
"Let's have a look ... Where do you want to go?"
"Sankt Martin" (he types ...)
"OK. Sankt Martin bei Traun?"
"No. Mühlkreis."
"Ah. OK."
"A bus leaves at 1:20 pm. The 321. From Hinsenkampplatz."
"And where's that? I've never heard of it ..."
"No idea. It'll be somewhere round here."
"OK. Thanks anyway. I'll find it - bye!"
"Bye."
Hinsenkampplatz is near the AEC. Goes without saying. Think. The iPhone normally does it for me. At 11:50 I was at Hinsenkampplatz. Another 1 hour 30 minutes to wait. Sit down. Wait. Think. Look. Right. Left. Straight ahead. A downpour. Rain. Rain. Rain. Wait. Look. Left. Right. Straight ahead. The bus comes. Get on.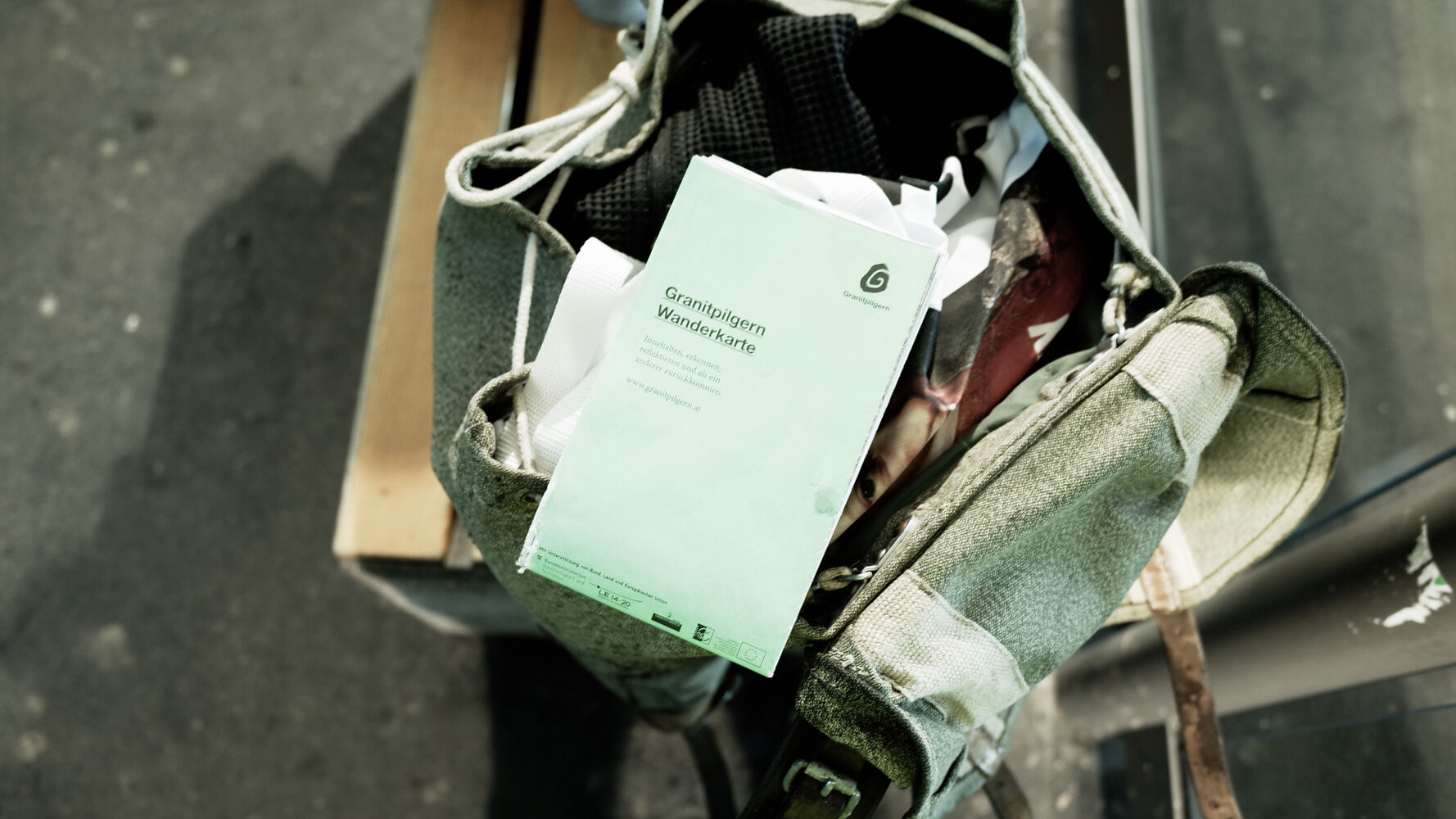 It's almost empty. 5 people. Including me. The monotonous sound of the bus makes me tired. I normally don't notice it. With ear buds in my ears. Suddenly a middle-aged woman sits on the next seat.
"Hey! Did you see that! The driver's on his phone"
"Yeah, he is. But he's finished now hasn't he?"
"So! Look! He's on the phone again! I'm going to say a quick prayer so nothing happens...got to get off now anyway. Now he's not stopped because he ...now he's checked. All the best ... hopefully nothing happens to you..."
Left. Right. Left. Right. Breathe in. Barbecues. Breathe out. Grasshoppers jumping. Thousands. I stop. No grasshoppers. I take a step. Hundreds. A small road. No cars. Sunshine. Clothes are drying out. Golden fields of straw. Dark green cornfields. A little old farmhouse. An old sheep farmer.
"Hello!"
"Hello!"
"Can I take a picture of your sheep?"
"Of course! I was waiting for you"
"Right. Thought so!"
"Look. Watch the birdie!
"Thanks a lot. Have a good day!"
"Goodbye"
Thoughts come. Thoughts go. They pass by. Catch them. Think. Reflect. Let them go. About challenges. About the company. About friends. About family. About love. A downpour. Heavy. Wet. Sweat and rain. Mixing together. Drops flow. Down my legs. Into my heavy walking shoes. The path is steep. Slippery. Breathe in. Concentration. Breathe out. Carefree.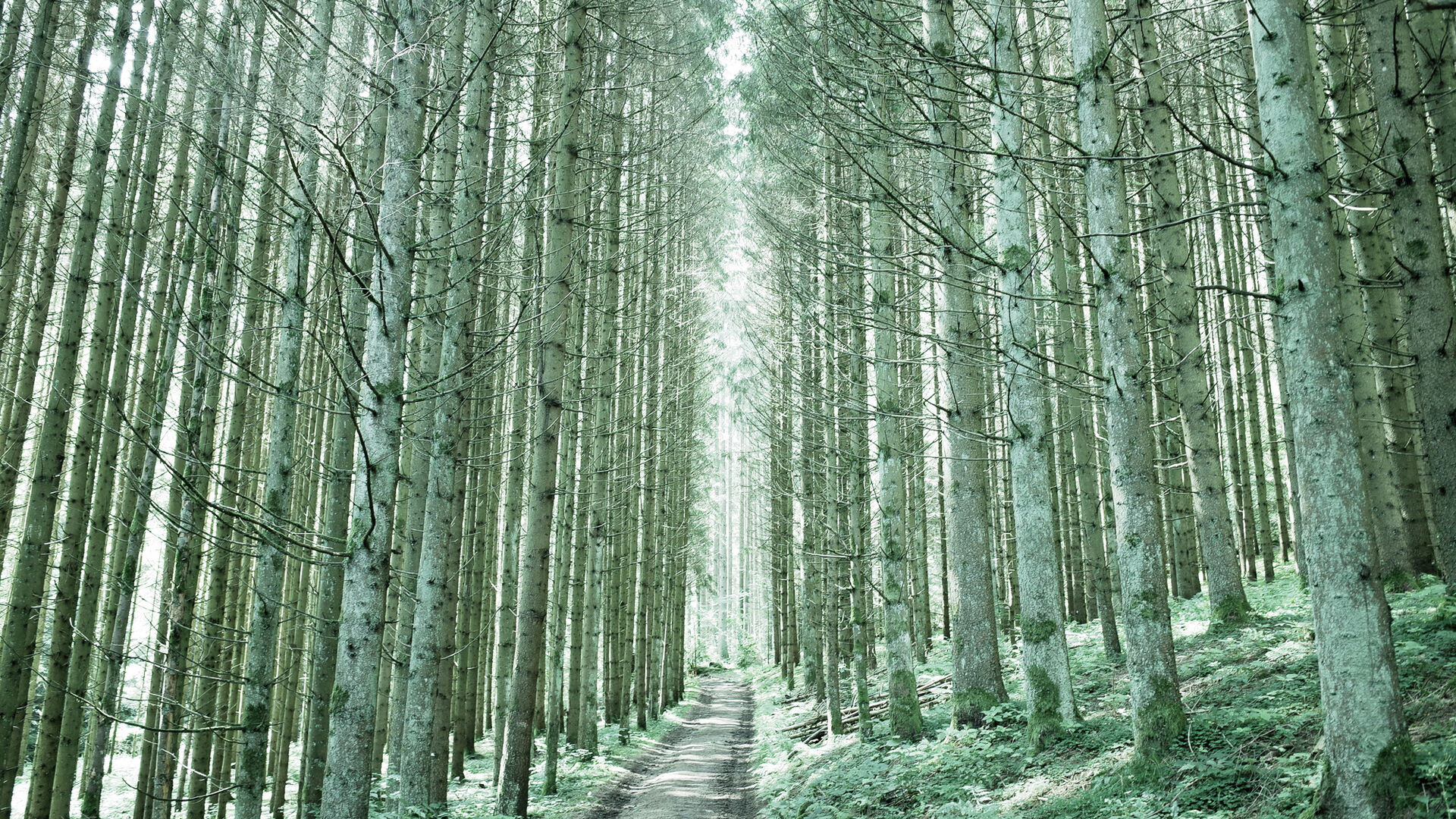 Arrive. Dive in. Into the Mühl. Swimming in the cold water. Delicious food. Enjoy. Be. Let the soul unwind. Thoughts come. Thoughts go. Look at the river. Sauna. Relax. Look. Swim. And back to the beginning. Do what you want. A conversation with Philip. About his current plans. His boy band. His new project.
Quick visit to the office. Neufelden. I like the office. I like all offices. All different yet all the same.
"Hey, what are you doing there?"
"Walking - the Granite Pilgrimage path."
"Walking what? The full distance?"
"Yep, the whole 90km."
"You're joking. It would kill me. All on foot. Up and down ... that's what we have cars for ..."
— Conversation with Katl from Neufelden.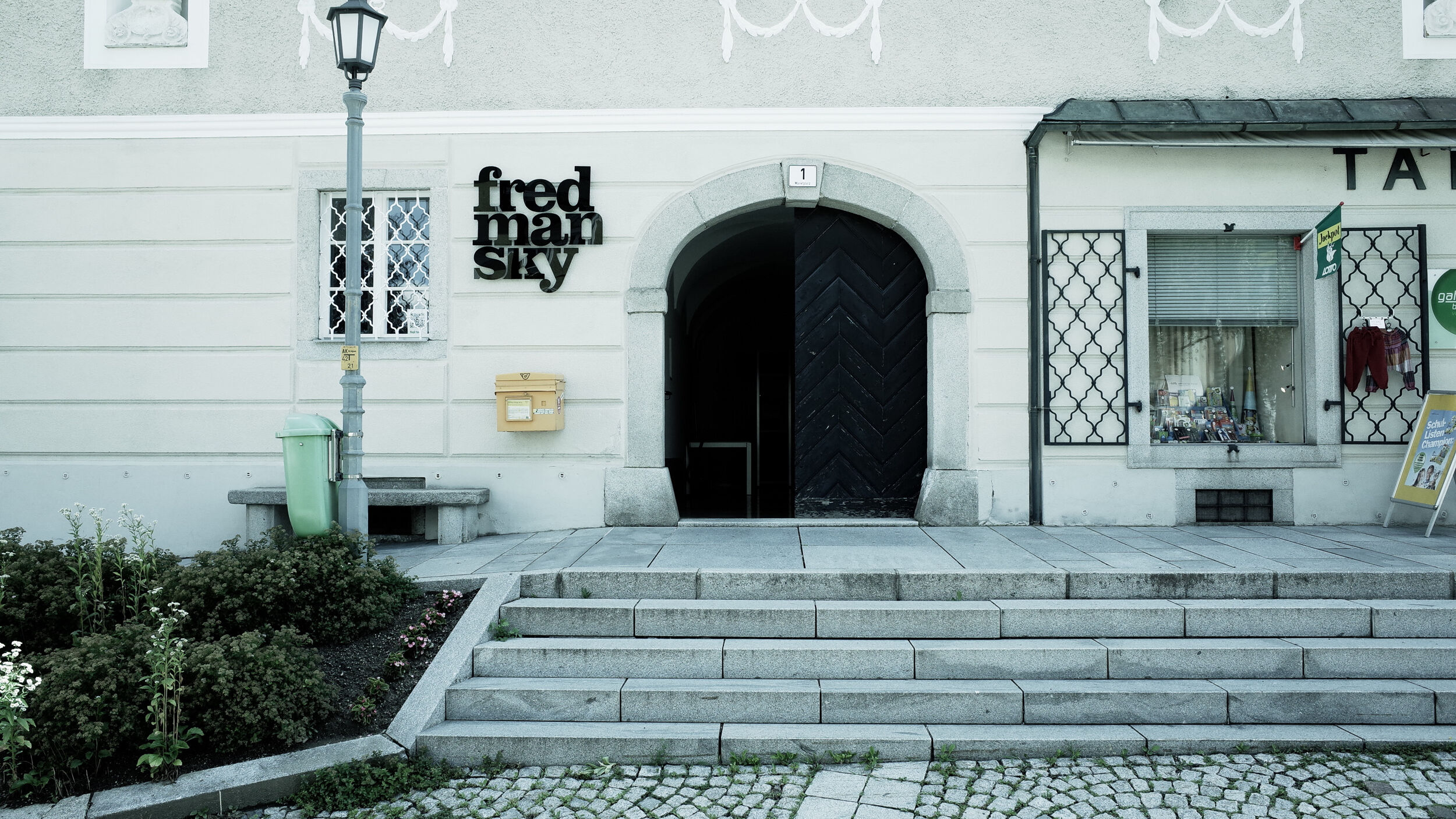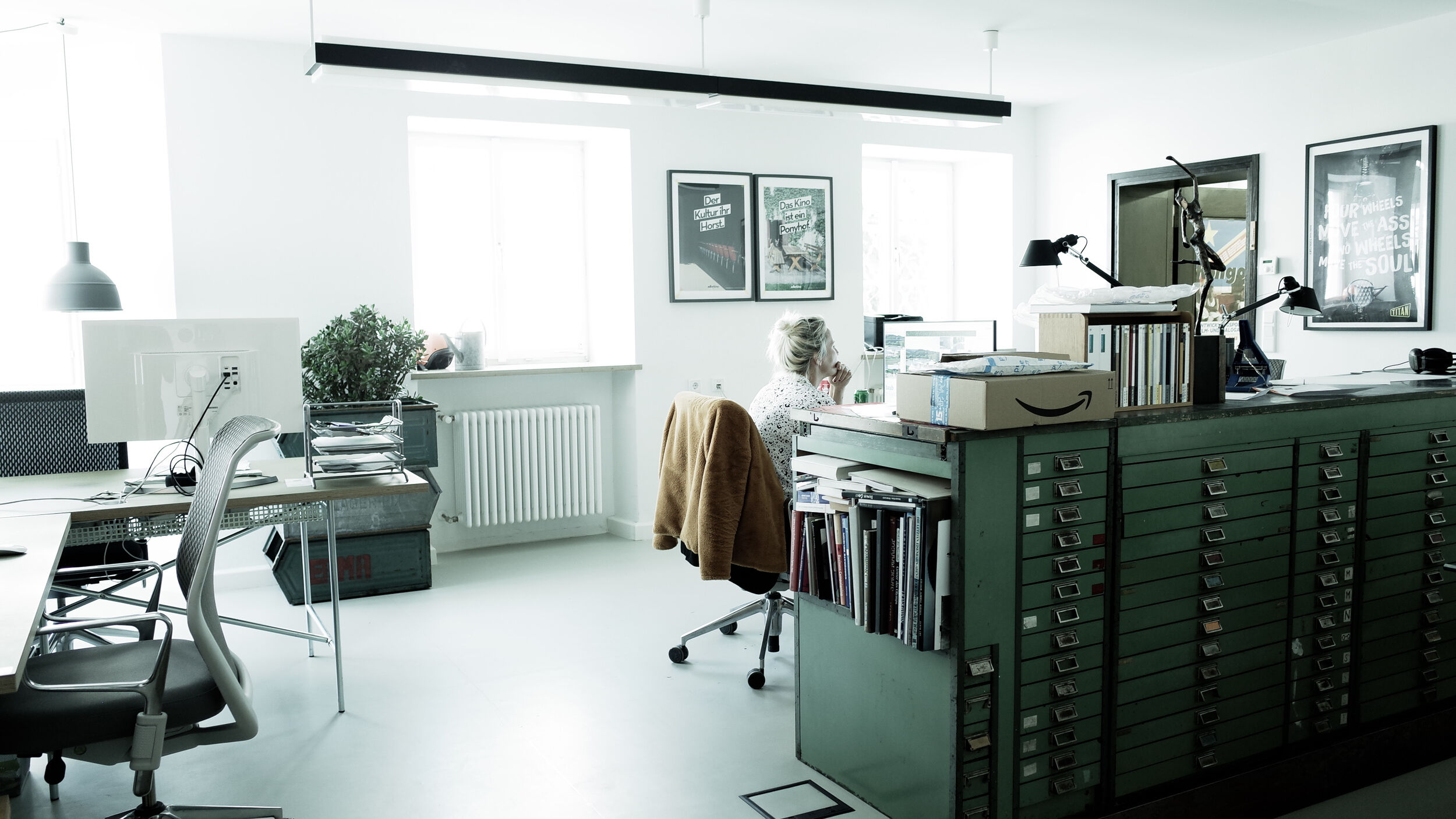 "Hello!"
"Hello!"
"Are you doing the pilgrimage route?"
"Yes, exactly"
"Where have you come from ... where are you going?"
"Neufelden - Haslach"
"You've come a long way then"
"Yes, what else would I be doing..."
— Conversation with a 90-year young man.
1 beer. 2 schnapps. 3 Raffaello. 1 dream.
Third day, 10:33 am. No words.
"Are you alright?"
"Pardon?"
"Are you alright?"
"Oh. Of course! Do I look that tired?"
"Thought so. Just asking..."
— Conversation with a young driver. He has a Red Cross key ring.
Vieböck Leinen — Helfenberg.
Vieböck has been one of our customers for a long time. But also kind of a new one. New? That's because the son is slowly growing into running the company. I'm a self-confessed Vieböck fan. Christoph is super friendly. The products are great. High quality. Sustainably produced. Manual quality checks. High-quality linen from France, Belgium and Holland. Woven in Italy. Really exciting production. The latest machine from 1989. Respond to changes. Go new ways. Away from those you've already travelled. Good luck, Christoph & Team.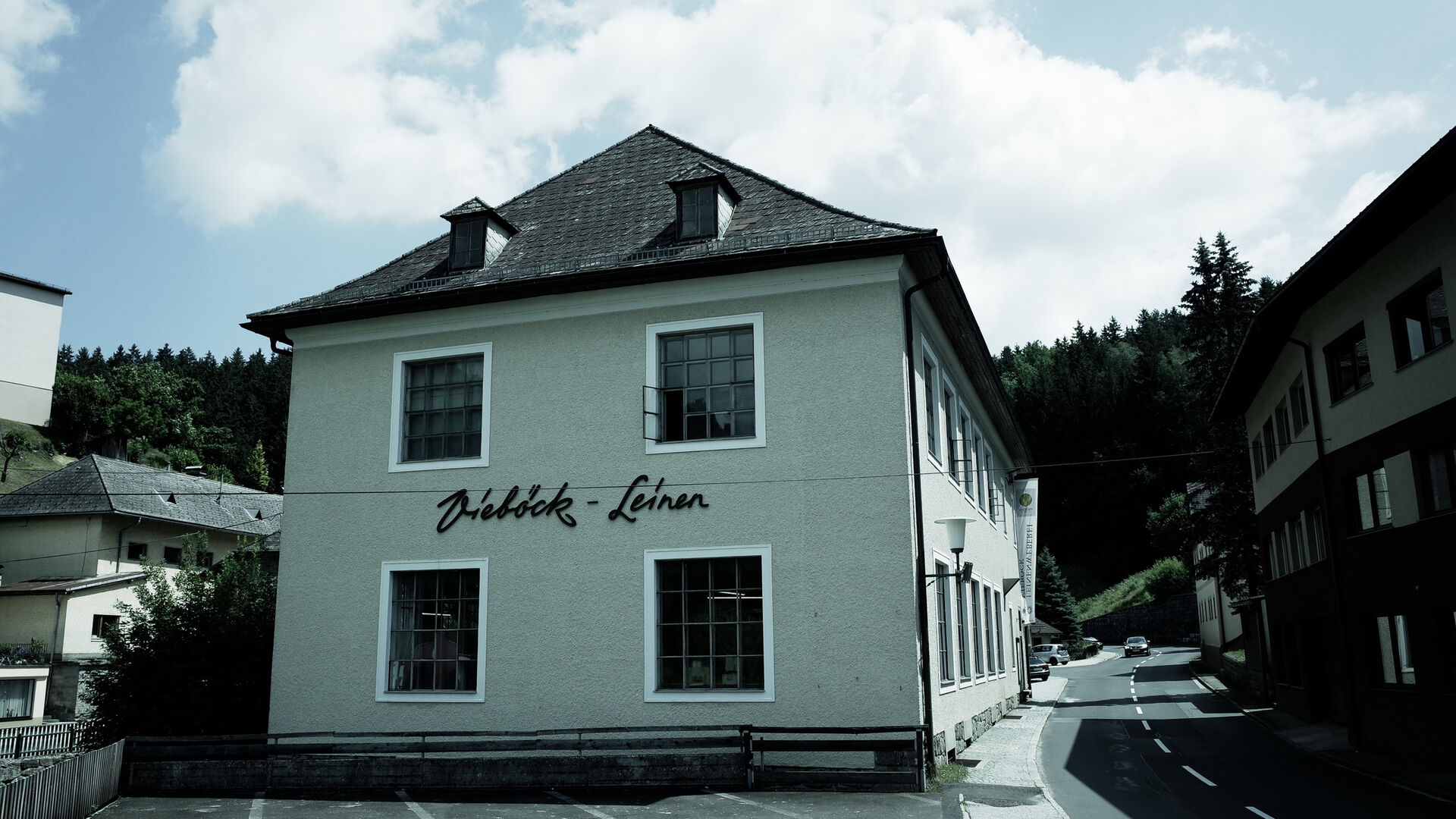 My old complaint. Backache. Too much weight. Too long on my shoulders. I decide to walk the second half with just the real essentials. The Helfenberg local authority office will look after my rucksack in the meantime.
"Can I leave my rucksack with you?"
"What, why?"
"Too heavy. Backache. An old complaint."
"Well. It doesn't look that heavy!"
"Try lifting it! It's pretty heavy!"
"Right. Doesn't look like it!"
"I'll pick it up on Thursday if that's OK!"
"That's fine, see you then!"
On the second half, instead of a rucksack I had blisters on the soles of my feet. "It would kill me! All on foot." — Katl said. I think about that a lot. For the last 45km. The route is beautiful. A carefree feeling sets in. I hear myself breathing. One foot in front of the other. Limping slightly. Until I can see Sankt Martin again.
4 days. 10 communities. 90 kilometres. 1000 thoughts. 1 discovery.
I didn't miss anything in 4 days. Nothing on Instagram. Nothing on Facebook. Nothing on Slack. Nothing on ORF. No important calls. Nothing bad happened. The world's still turning. Everything's just as good or bad as it was 4 days ago. But there's one thing I would have missed out on, if I hadn't left my iPhone on the bedside table in flight mode: A journey to find myself.
Thanks.