Snapchat's all the hype. The app of the hour. But for everyone past puberty, it's one thing first and foremost: a mystery. At the re:publica web conference in Berlin in early May, Sascha Lobo joked about recognising the digital avant-garde: "we didn't understand Snapchat much earlier than everyone else didn't." But us Fredmanskys want to understand it. In search of enlightenment, we invited a true expert to the agency for Snapchat training. 11-year-old Paul.
Workshop with a digital native
One Friday after school, he came over to our agency, briefly talked shop about sneakers, and then spoke in the meeting room in front of the gathered team and a rolling camera. With epically deft thumbs, Paul clicked, swiped and guided us through the world of Snapchat – we had trouble following him. After an explanation of the essential functions, the program was fairly clear to us, but the point of it was still not clear to some.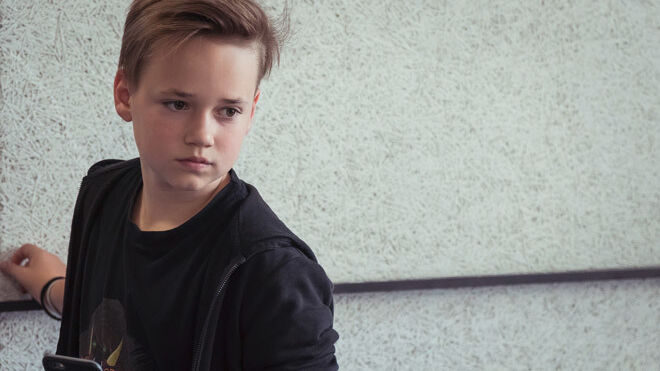 What is so special about Snapchat?
It's authentic and not as staged as something like Instagram, Paul suggested, explaining one of Snapchat's advantages. One more: you can easily create and publish videos without an editing program, he pointed out. Paul also likes the fact that the data simply disappears. The 11-year-old admitted that he was not a fan of large volumes of photo data on his mobile. Quite different from us digital immigrants who like to hoard photos in rough piles, constantly living in fear that the phone could give up, taking all our memories with it to the grave.
An 11-year-old explains this Snapthingy to us. My colleague of the same age feels ancient, as do I a little bit.
Life in the fast lane par excellence
That the digital world is not slow and plodding is nothing new. Yet Snapchat manages to boost the speed even more dramatically. The snaps only last for a few seconds. Messages addressed privately can only be viewed once, while stories last for at least 24 hours. After that, it's all gone and forgotten. Wherever the data disappears to, users can no longer access it. You can't like, comment on or share anything on Snapchat. A stroke of genius to keep the network smart and fast-paced. Say a photo is not too perfect, the message will self-destruct within 24 hours at the latest.