Break new ground with Kusser.
Rock is an ancient raw material. Yet Kusser makes something completely new from it. The granite factories build bridges between craftsmanship and engineering. We brushed the dust off the brand and sent a fascinating company forwards to break new ground.
Kusser fashions granite from its own quarries into bridges, fountains and natural stone. The family-owned company, which operates internationally and also has a name as a gravel plant, is a market leader in natural stone fountains and leading innovator in prestressed granite. The aim was to combine the various existing means of communication and adapt their content for the target audience of architects and urban planners.
We released the brand's essence and repositioned a number of aspects. Instead of a vast array of messages, there's now a clear direction. Break new ground with Kusser. The statement serves as both a strapline and a direction of impact. Every communication measure has to flow towards it. That also means that the images and wording have taken a new route. The image world goes without colouring, with the headlines clearly communicating the products' strengths. No stone was left unturned in the brand architecture, either. Kusser and its gravel and gravestone arms (Kusser Schotterwerke and Kusser Grabmal) are one brand visually, although in operational terms, the divisions only meet in the communication media as rarely as their target markets do.
Corporate design,
Logo design,
Graphic design,
Direct Marketing,
Fair concept & design,
Research,
Focus groups,
Brand workshop,
Positioning,
Employer branding,
Consulting,
Straplines,
Conceptual web design,
Web design,
Frontend Development,
Craft CMS,
E-Commerce,
SEO,
Performance optimisation,
Online marketing,
Content & editing
Customer
Kusser Granitwerke, Deutschland
Project team
David Hellmann
Christina Oberaigner
Project partners
Project length
4 months
Website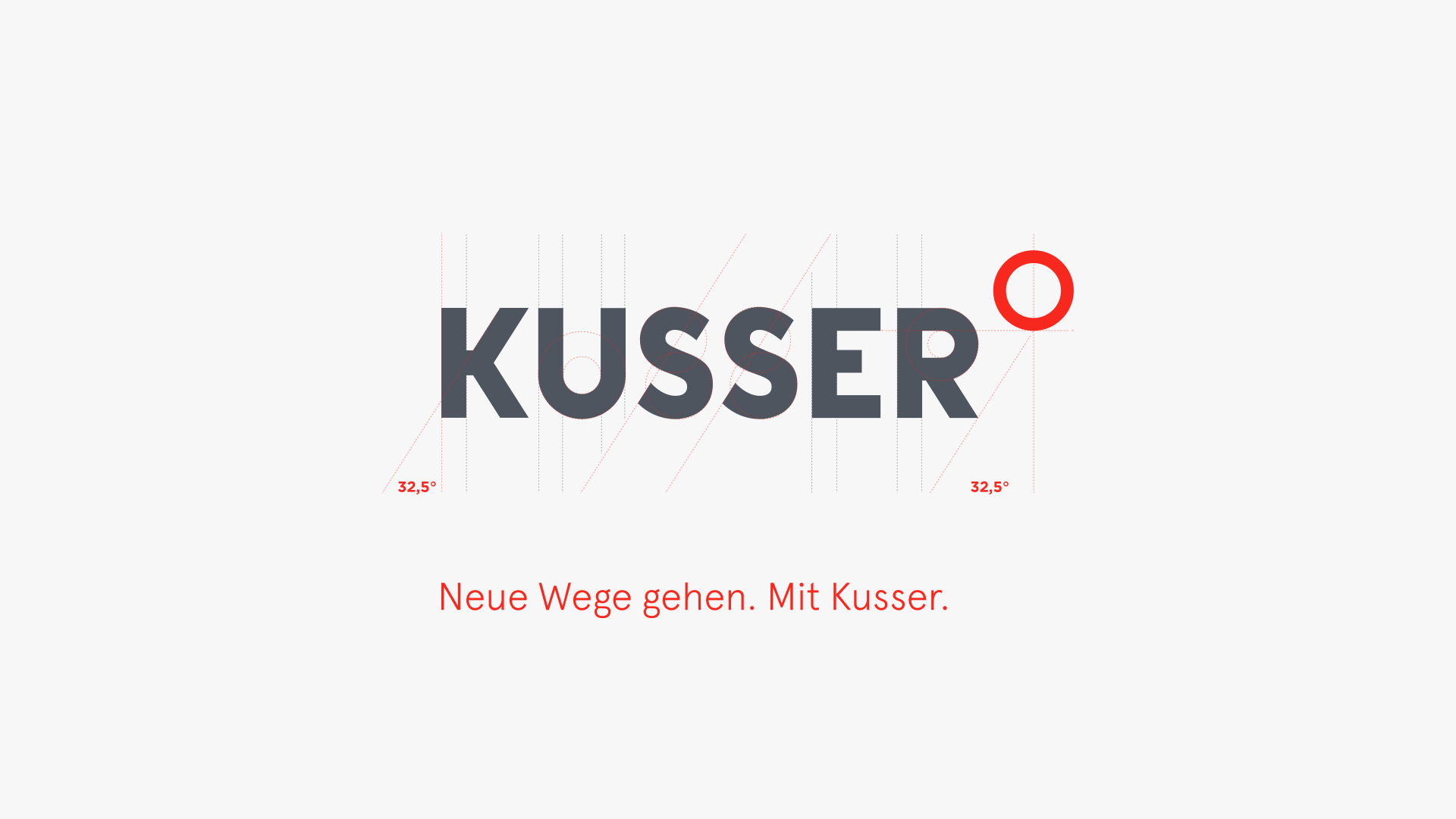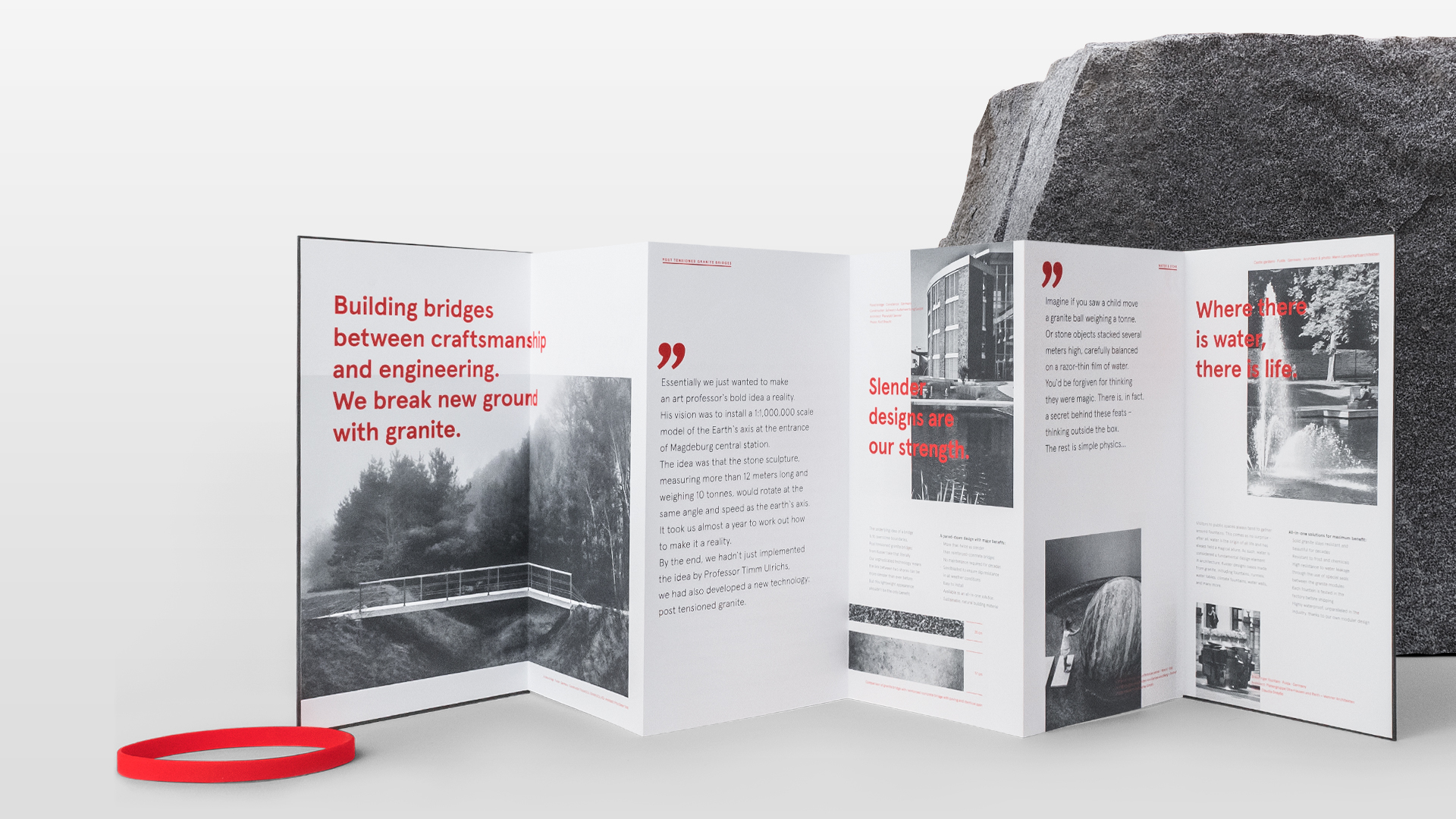 Strong and coarse cardboard on the outside, fine and smooth paper on the inside. As if working your way forwards – from rough work in the quarry to surgical precision in the plant. The image folder breaks new ground. It tells Kusser's history with text, pictures and touch.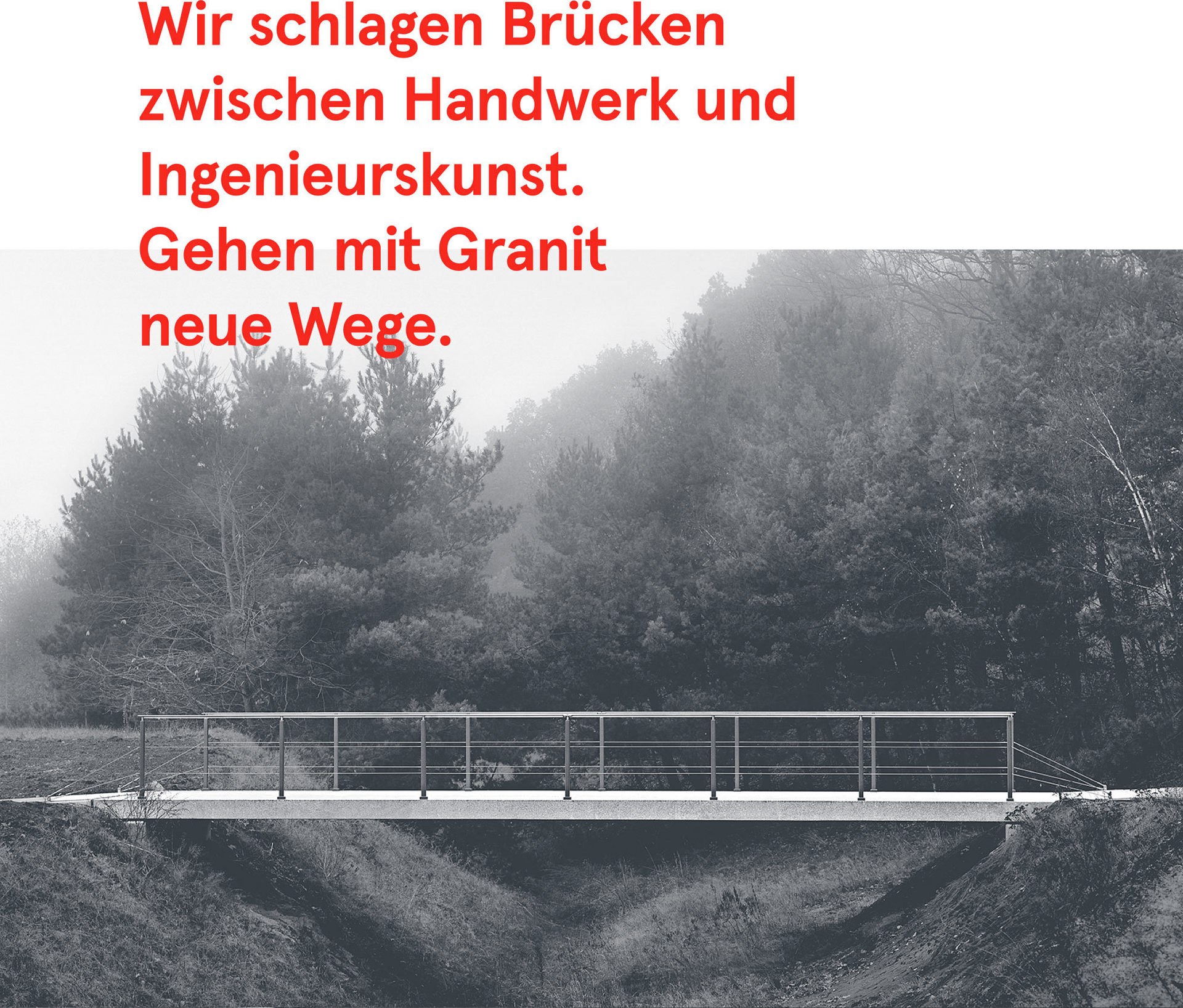 Black, grey, white and red. Kusser's colour scheme is neat. We said to ourselves, the less distraction there is, the more power the essential parts gain. From our perspective, the built structures and associated messages are essential.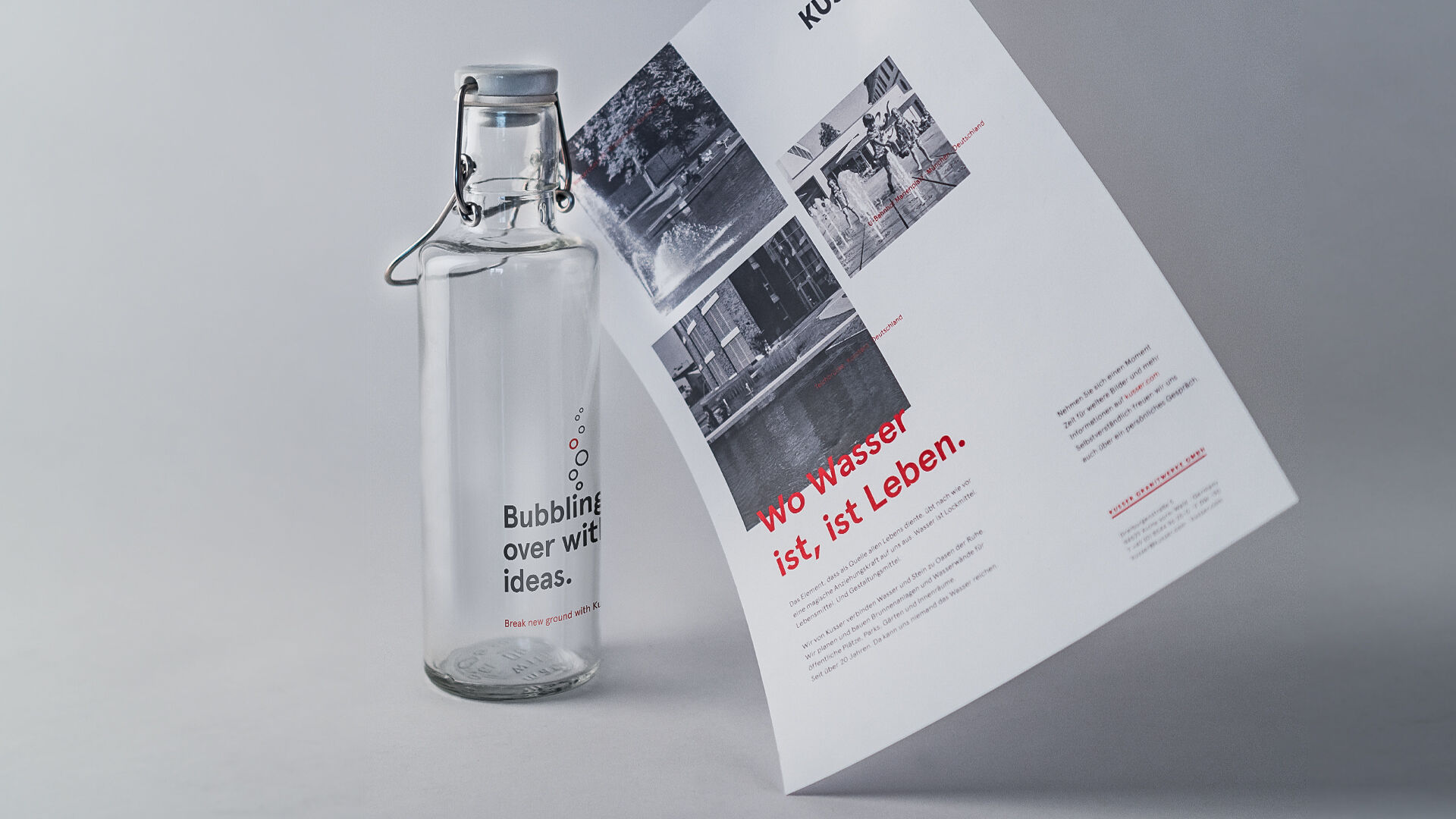 Good branding is like the brand's DNA, to be found in every cell of communication.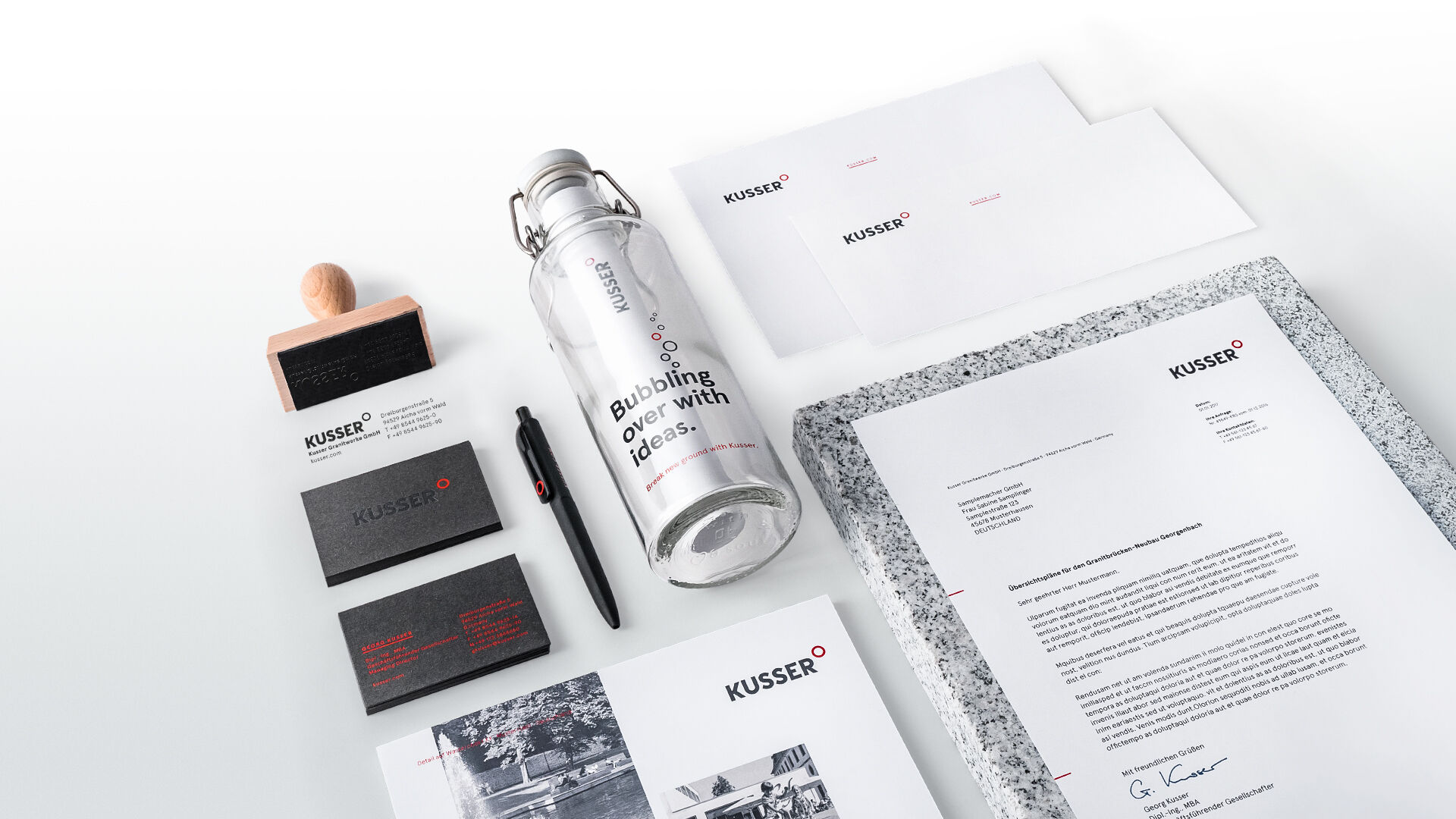 The BAU 2017 architecture, materials and systems trade fair in Munich featured the whole world of Kusser packed into about 100 m2. One step forwards and a siren rang out in visitors' headphones, followed shortly after by a blast from the quarry. Just a few metres ahead, birds could be heard chirping.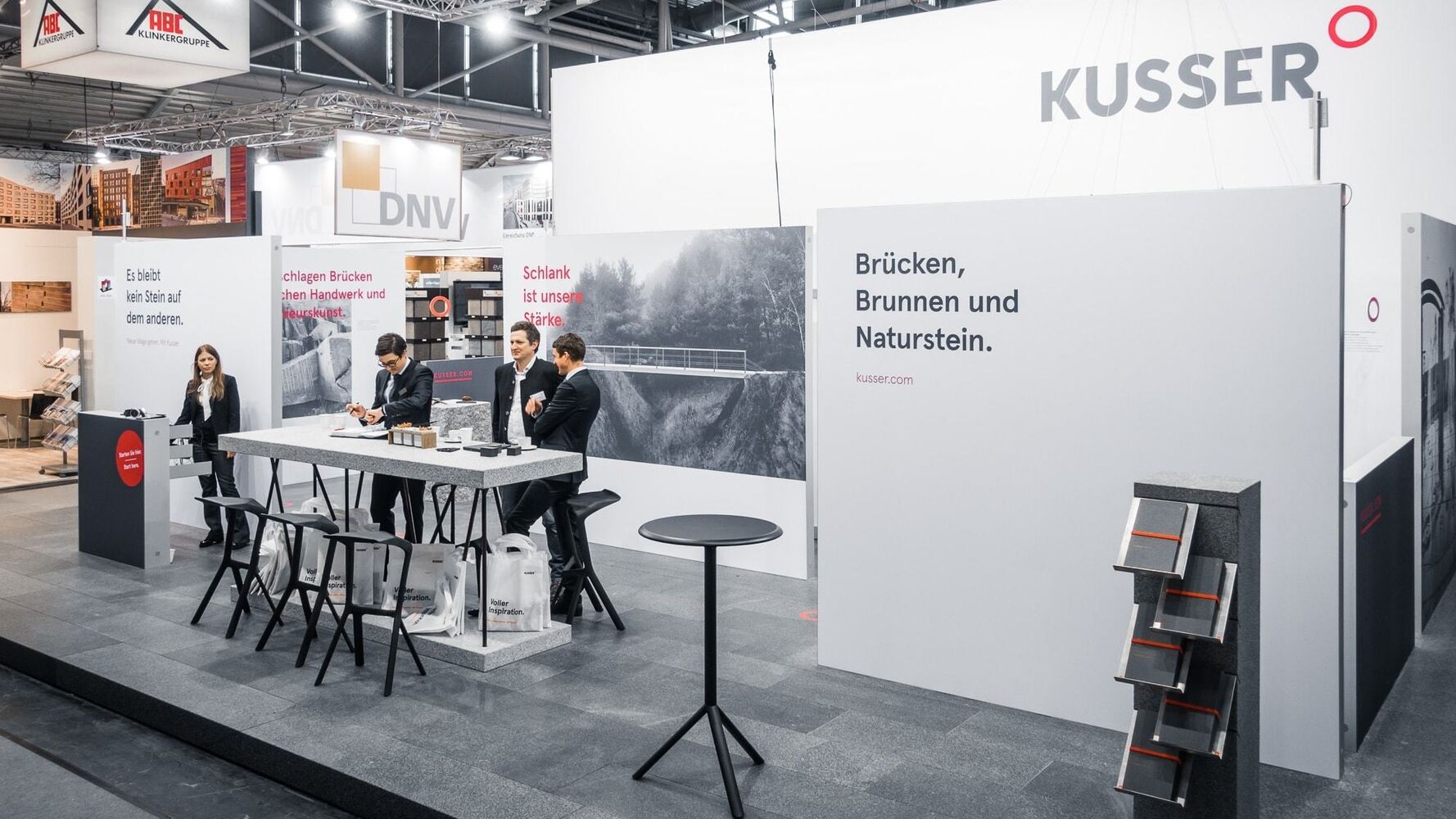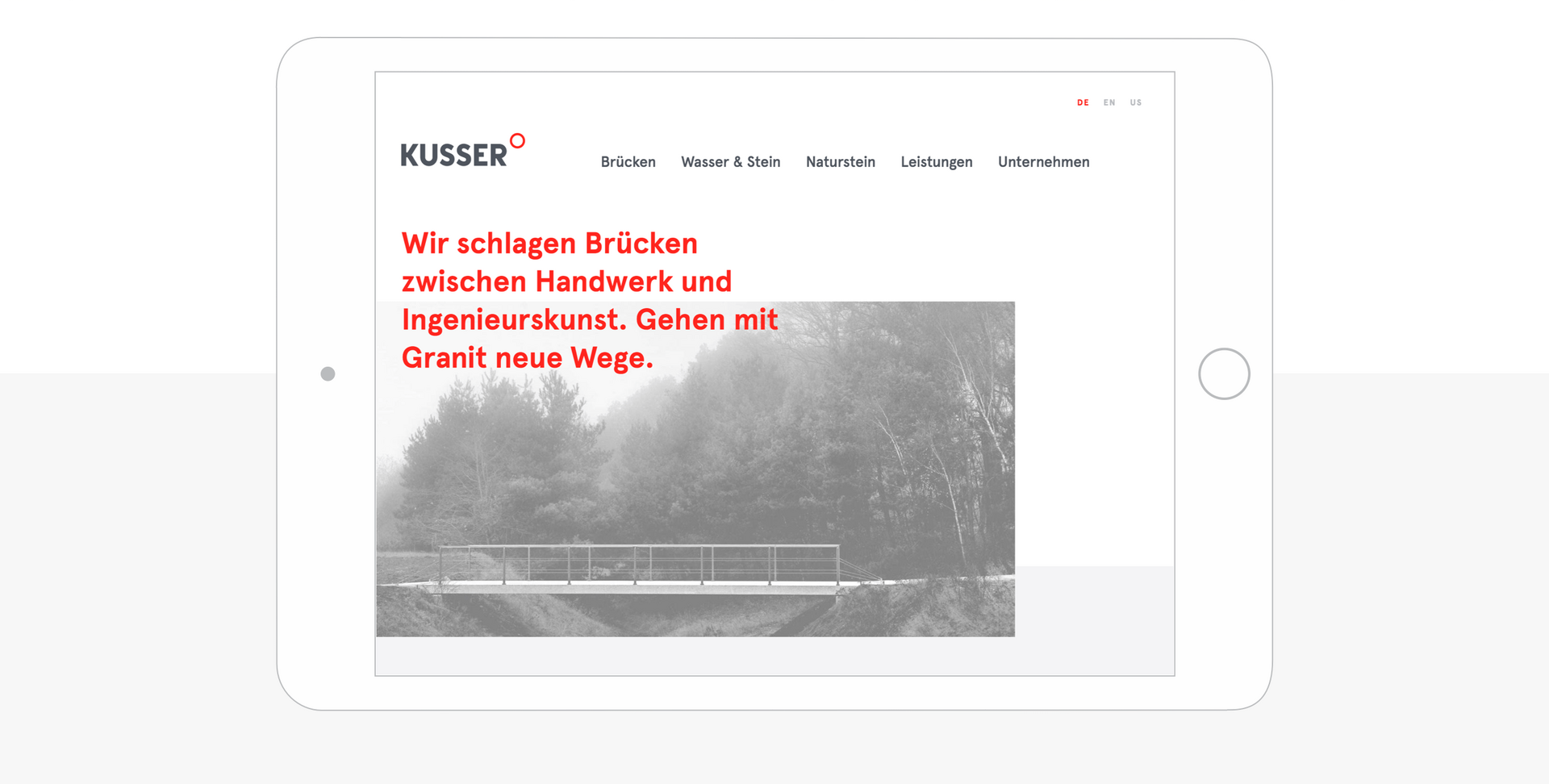 The Kusser brand experience is scalable for all channels and is also breaking new ground in the digital realm. Visually – a given – but also technologically. Kusser.com was optimised for Google and co. and runs at a convenient pace with a page speed of 90/96.